MEDIA ABOUT US
Articles, publications, films and videos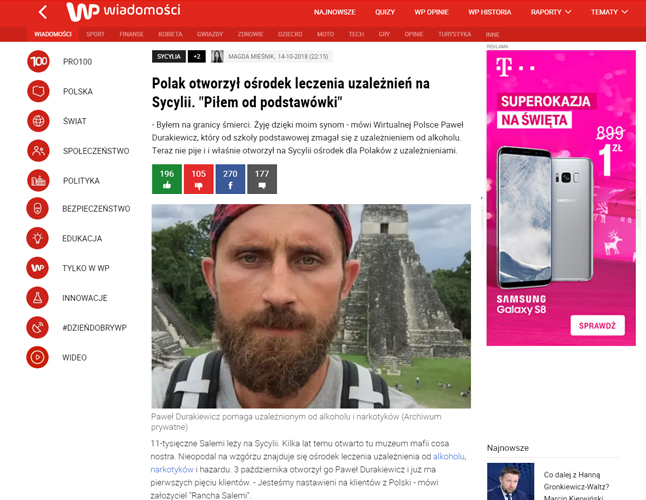 An excerpt from a publication on 

wiadomosci.wp.pl:
"I was on the verge of death. I live thanks to my sons," says Paweł Durakiewicz for Wirtualna Polska. Struggling with alcohol addiction since primary school, now he does not drink any longer and has just opened a centre for Poles with addictions in Sicily. Salemi is a town of 11,000 inhabitants located in Sicily. A few years ago, a museum of the Cosa Nostra mafia was opened here. On a hill nearby, there is a treatment centre for people suffering from alcohol, drug and gambling addiction. Opened on 3 October by Paweł Durakiewicz, the centre already has the first five clients. – We are focused on clients from Poland – says the founder of "Salemi Ranch"…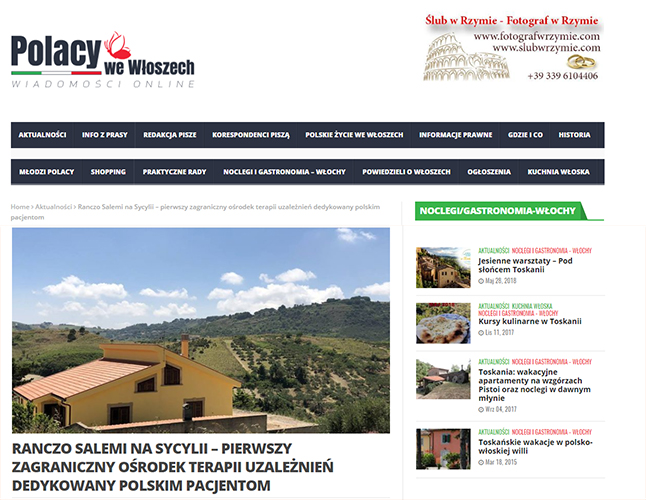 Salemi Ranch (the Province of Trapani, Sicily) is the first foreign addiction therapy centre dedicated to Polish patients. In addition to the proven and most effective model of psychotherapy, it combines additional elements of yoga, meditation and animal assisted therapy, which support not only faster but also permanent recovery. Paweł Durakiewicz, "an alcoholic" – as he often refers to himself – will tell us about his fight against addiction and how he came up with the idea of establishing a centre for addicted Poles under the Sicilian sun. We offer you an interview with the founder of Salemi Ranch…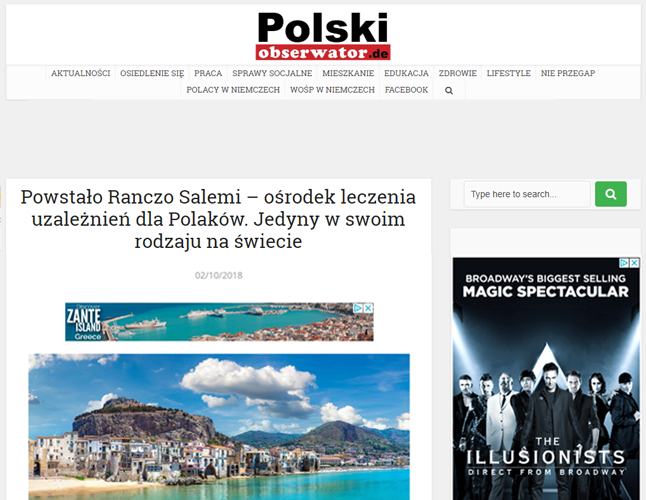 An excerpt of a publication on – polskiobserwator.de:
Paweł Durakiewicz comes from a town near Warsaw; he is a graduate of American universities: Pepperdine University in California and Carlson School of Management (MBA) in Minnesota. For many years, he used to work in various corporations in Poland, where he held managerial positions. The things he experienced, the fact that he brushed with death because of alcoholism, made him decide to change his life completely. He trekked 1000 km through the Italian Alps and travelled to 60 different countries to finally settle in Sicily after 9 years of journeying around the world and deep into himself. Surrounded by the Salemi mountains, overlooking sandy coasts, he founded "Salemi Ranch" – an Addiction Treatment Centre…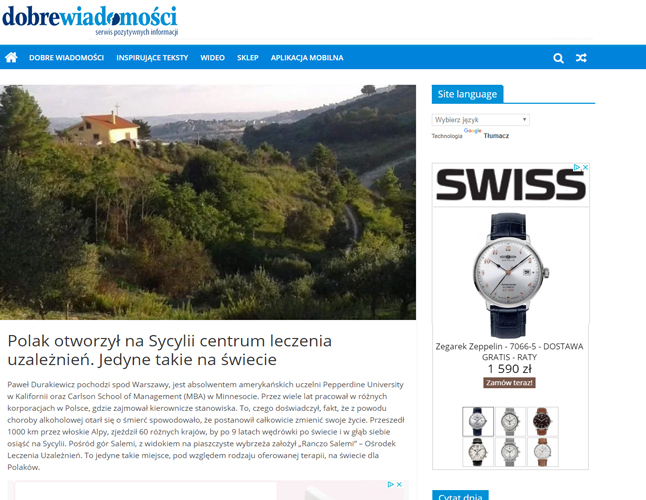 An excerpt from a publication on – dobrewiadomosci.net.pl:
The facility employs outstanding Polish therapists who work in the best centres in Poland on a regular basis. Among the mountains, vineyards, olive groves, in the comfort of Sicilian nature, Poles, both living in Poland and from abroad, can put up a fight against alcoholism, drug addiction and gambling. Effectively. In the facility founded by Paweł Durakiewicz, traditional psychotherapy is combined with elements of yoga and meditation…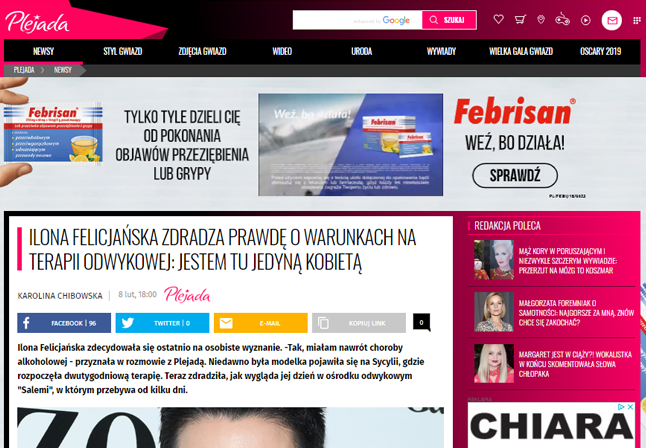 An excerpt from a publication – plejada.pl:
Ilona Felicjańska has recently decided to make a personal confession. – Yes, I've had a relapse of alcoholism – she admitted in an interview with Plejada. The former model has recently appeared in Sicily, where she has begun a two-week therapy. Now she has revealed what her day looks like in the "Salemi" rehab centre, where she has been staying for a few days……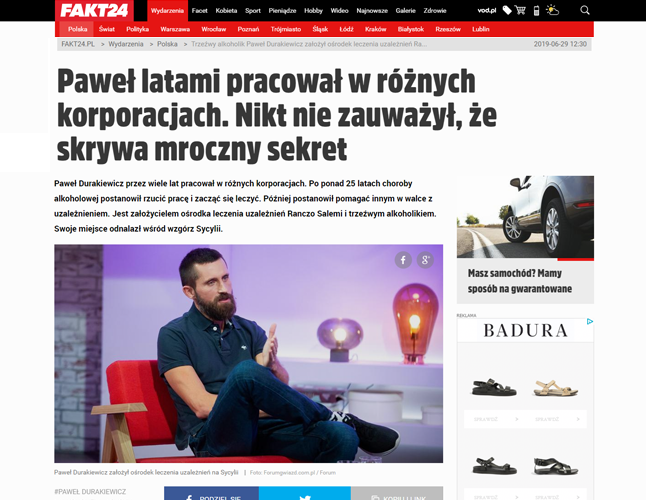 An excerpt from a publication – fakt.pl:
Paweł Durakiewicz used to work in various corporations for many years. After more than 25 years of alcoholism, he resolved to quit his job and start treatment. Later, he decided to help others in the fight against addiction. He is the founder of the Salemi Ranch addiction treatment centre in Sicily and a sober alcoholic. He found his place among the hills of Sicily…….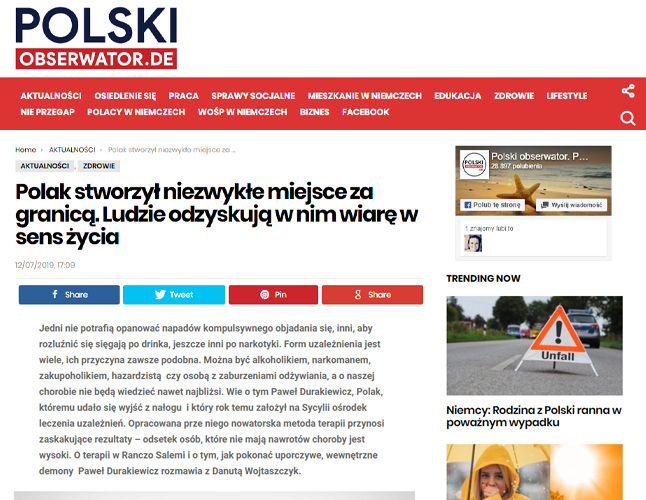 Some are unable to control the attacks of compulsive overeating, while others reach for a drink to relax, and yet others resort to drugs. Although there are numerous forms of addiction, their causes are always similar. We can be an alcoholic, drug addict, shopaholic, gambler or a person with eating disorders, and even our loved ones will not know about our disease. It is well known to Paweł Durakiewicz, a Pole who has managed to come out of addiction and founded an addiction treatment centre in Sicily one year ago……..